Storm Damage Roof Replacement in Arlington Heights, IL
The team at Green Renovations has over 30 years of experience in storm damage replacement and insurance claims. We're your one-stop shop for all your roofing needs, and we're dedicated to providing the highest quality service possible.
If you've been hit by a severe storm, the first thing you need to do is call us. We'll come out to your property and assess the damage, and then we'll work with your insurance company to ensure you get the coverage you're entitled to. We understand the stress of dealing with storm damage, so we aim to make the process as smooth and stress-free as possible.
Once your insurance claim is approved, we'll begin the process of replacing your roof. We only use the highest quality materials, ensuring that your new roof will be durable and long-lasting. At Green Renovations, our commitment is to provide our customers with top-notch service, ensuring your roof is replaced efficiently.
Green Renovations is located in Arlington Heights, IL, and we cater to the surrounding area. If you've been affected by storm damage, don't hesitate to contact us. We're here to ensure your roof is in the best condition possible!
Most Common Types of Storm Damage in the Chicagoland Area
In the Chicagoland area, various storms occur throughout the year. While many are mild, some can cause significant damage to homes and businesses. The prevalent types of storm damage in our region fall into four main categories: water damage, wind damage, hail damage, and snow and ice damage.
Water Damage
This type of damage happens when rain or melting snow infiltrates your home through the roof, windows, or doors. Flooding can also lead to water damage. If not addressed promptly, water damage can result in mold growth, posing severe health risks.
Wind Damage
High winds can lead to tree limbs and other debris falling on your home, causing structural damage and breaking windows. Wind can also dislodge shingles and siding, allowing water to penetrate and cause further harm.
Hail Damage
Hailstorms, frequent in our area, can inflict severe damage. Hailstones can shatter windows, dent siding, and harm shingles. If you suspect hail damage, it's crucial to have a qualified contractor assess it promptly.
Snow and Ice Damage
Accumulated snow and ice can damage your home. Excessive snow and ice on your roof can lead to its collapse, while wind-driven snow can obstruct doors and windows. Ice dams in gutters can also result in water seeping into your home.
If your home has suffered storm damage, it's vital to address it promptly to prevent further issues. A skilled contractor can evaluate the damage and recommend the best replacement strategy. Sometimes, your insurance might need an inspection before approving a storm damage claim.
For storm damage replacement needs, reach out to Green Renovations in Arlington Heights. With over 30 years of experience, we specialize in helping homeowners recover from storm damage. Let us help you restore your home post-storm. Contact us today for a free consultation.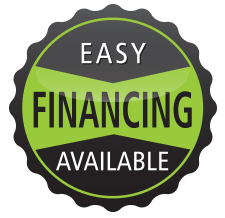 Get Financing
From as low as $100 per month!
"My husband found Green Renovations when looking for a contractor to fix damage from a wind storm (tornado) and help us navigate through the insurance claim. Ben was awesome. He helped us with every step of the process, dealing directly with our insurance company. He was so patient and made this process less stressful. And our house looks great! I would not hesitate to work with this company again in the future."
We're Proud To Show Our Work!
We have completed 100s of roofing projects over the past few years – here are some of our favorites.
When it comes to roofing, you need a contractor that you can count on to do the job right. We have completed 100s of roofing projects over the past few years and have maintained a 5-Star Rating. Give us a call today!