Best Roofing Company in Palatine, IL
If you're in need of a roofing contractor in Palatine, IL or the surrounding cities, look no further than Green Renovations LLC! We are a locally owned and operated company with over 30 years of experience. We're fully licensed and insured, and our team has a combined wealth of experience. Plus, we're proud to offer superior quality services with 100% customer satisfaction.
The roof is one of the most important structures on your home. It protects you from the elements and helps to regulate the temperature inside. A roof can also add to the aesthetic value of a property. However, roofs are subject to wear and tear over time, and they can be damaged by severe weather. If you need roof leak repair or replacement, it is important to choose a reputable roofing company.
We offer a variety of services, including residential roofing, roof repair, siding, gutters, and storm damage repair. We are also experienced in handling insurance claims. We are a locally owned and operated company with years of combined experience. We have great reviews and ratings from our satisfied customers. When you choose Green Renovations, you can be confident that you are getting the best possible service. We use superior quality materials and our workmanship is second to none.
Roof Leak Repair and Replacement
At Green Renovations LLC, we specialize in roof leak repair and replacement for residential properties. No matter what type of roof you have, our team of experienced roofing professionals can provide the repairs you need to keep your home safe and dry. We work with all types of roofs, including asphalt shingles, flat roofs, and DaVinci roofs, and we offer a free estimate so you can know exactly what to expect before we begin work.
If you need roofing repairs or replacement in Palatine, IL or any of the surrounding cities, call us today for a free estimate. We look forward to helping you keep your roof in top condition.
Storm Damage Restoration in Palatine
Did you know that your roof is one of the most vulnerable parts of your home during a storm? High winds can cause shingles to come loose and flying debris can cause holes and other damage. Hail can also damage your roof, causing dents and cracks.
If your home has suffered storm damage, it's important to get it fixed as soon as possible. Water can seep into your home through the smallest of cracks, causing serious damage. At Green Renovations, we are experts in storm damage repair. We will inspect your roof and make any necessary repairs to ensure that your home is safe and protected.
If you have storm damage, your insurance company may cover the cost of repairs. We are experienced in dealing with insurance companies and can help you get the most out of your coverage. We will work with your insurance company to make sure the process is as smooth as possible for you.
Gutters Repair and Replacement in Palatine
Your gutters play an important role in protecting your home from water damage. They channel water away from your roof and foundation, helping to prevent flooding and leaks. If your gutters are damaged or not functioning properly, they can't do their job. We can repair or replace your gutters, and we also offer gutter guards to help keep them clean and functioning properly.
Siding Repair and Replacement in Palatine
Your siding is one of the first lines of defense against the elements. It helps protect your home from water damage, wind damage, and more. We offer a variety of siding materials to choose from, so you can find the perfect look for your home. We also offer insulated vinyl siding, which can help improve your home's energy efficiency.
We are the leading roofing company in Palatine, IL and the surrounding cities, and we are dedicated to providing our customers with the best possible service. We offer a wide variety of roofing services, including residential roofing, roof leak repair, siding installation and repair, gutter installation and repair, and storm damage restoration. We are confident that we can meet all of your roofing needs, and we invite you to contact us today to schedule a free consultation.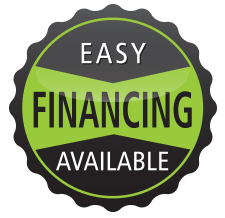 Get Financing
From as low as $100 per month!
"My husband found Green Renovations when looking for a contractor to fix damage from a wind storm (tornado) and help us navigate through the insurance claim. Ben was awesome. He helped us with every step of the process, dealing directly with our insurance company. He was so patient and made this process less stressful. And our house looks great! I would not hesitate to work with this company again in the future."
We're Proud To Show Our Work!
We have completed 100s of roofing projects over the past few years – here are some of our favorites.
When it comes to roofing, you need a contractor that you can count on to do the job right. We have completed 100s of roofing projects over the past few years and have maintained a 5-Star Rating. Give us a call today!