Elk Grove Village, IL Roofing
Best Roofing Company in Elk Grove Village, IL
Anyone who has lived in Elk Grove Village, IL for more than a few years knows that the weather can be extreme. From the heat of summer to the cold of winter, the village experiences a wide range of temperatures and precipitation levels. As a result, it is important to have a good roof that can withstand the elements. In addition to a strong roof, siding and gutters are also important components of a weather-resistant home. Siding helps to protect against wind and water damage, while gutters help to redirect rainwater away from the foundation. By taking these steps, homeowners can help to prolong the life of their home and avoid expensive repairs.
At Green Renovations LLC, we are proud to be the leading roofing company in Elk Grove Village, IL. We have over 30 years of experience in roofing, siding and gutters, and we are fully licensed and insured. We offer a wide range of services, including residential roofing, roof repair, siding, gutters, and storm damage repair.
If you are in need of roofing, siding or gutter services in Elk Grove Village, IL or the surrounding areas, contact us today. We will be happy to provide you with a free estimate.
Storm Damage Restoration in Elk Grove Village
A storm can cause all kinds of damage to your roof, from broken shingles to fallen trees. If you suspect that your roof has been damaged, it's important to act quickly in order to minimize property damage and prevent further damage. The first step is to assess the situation and identify any potential hazards. If there are loose or damaged shingles, fallen tree limbs, or debris on the roof, it's important to take steps to secure the area and prevent further damage. Once the immediate danger has passed, you'll need to contact a reliable contractor who can evaluate the extent of the damage and make repairs.
In many cases, storm damage will be covered by insurance. Be sure to contact your insurance company as soon as possible to file a claim. By taking quick action and working with a reputable contractor, you can minimize the storm's impact on your home. At Green Renovations, we have years of experience helping homeowners recover from storm damage. We're a locally owned and operated company, with 5 star ratings on Google.
When you contact us, we'll send a team of experienced roofing professionals to your property to assess the damage and provide a free estimate. We'll work with your insurance company throughout the claims process to make sure you get the coverage you're entitled to. Most importantly, we'll get the job done quickly and efficiently, so you can get your life back to normal. If you need help with storm damage repair, contact Green Renovations today. We serve homeowners in Elk Grove Village, IL and the surrounding cities.
Siding & Gutters Repair and Replacement in Elk Grove Village
In addition to roofing, Green Renovations also specializes in siding and gutters. We can install new siding or replace damaged siding. We also install and repair gutters. If you need help with any of these services, contact us today.
Siding and gutters are two components of your home that work together to protect it from the elements. Siding is the outer layer of your home that is exposed to the sun, wind, and rain. Gutters are the channels that run along the edge of your roof and collect rainwater, which is then directed away from your home. Both siding and gutters can become damaged over time, so it is important to know when to replace them.
Siding should be replaced when it begins to show signs of wear and tear, such as cracks, peeling, or rot. Gutters should be replaced when they become clogged with debris or start to pull away from the house. If either siding or gutters are not replaced in a timely manner, they can cause serious damage to your home. Water can leaks into your home through cracks in siding or gutters, causing mold and mildew to grow. In extreme cases, unchecked water damage can lead to structural problems.
Replacing siding and gutters may seem like a daunting task, but it is important to keep your home in good condition. Regular maintenance will extend the life of your siding and gutters and help you avoid costly repairs down the line.
At Green Renovations LLC, we are your local experts for all your siding and gutter needs. We have over 30 years of experience in the industry, and our team is equipped to handle any repair or replacement project, big or small.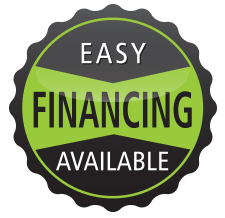 Get Financing
From as low as $100 per month!
"My husband found Green Renovations when looking for a contractor to fix damage from a wind storm (tornado) and help us navigate through the insurance claim. Ben was awesome. He helped us with every step of the process, dealing directly with our insurance company. He was so patient and made this process less stressful. And our house looks great! I would not hesitate to work with this company again in the future."
We're Proud To Show Our Work!
We have completed 100s of roofing projects over the past few years – here are some of our favorites.
When it comes to roofing, you need a contractor that you can count on to do the job right. We have completed 100s of roofing projects over the past few years and have maintained a 5-Star Rating. Give us a call today!